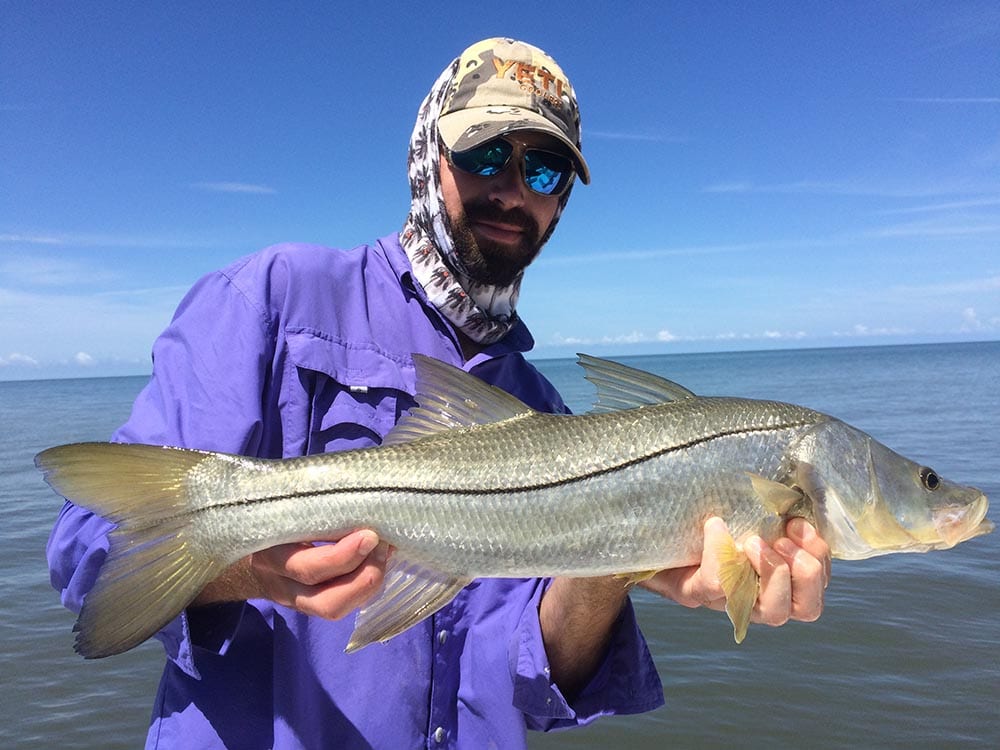 Naples offers sophistication and premier Snook fishing. This Gulf Coast retreat is known for art, live music, palatial homes, and an incredible catch! The captain at Chasin' Tales Fishing Charters is an experienced local angler, who knows the area and where to reel-in the region's favorite catch, Snook!
Florida's waters are home to five species of Snook. Although the different species of Snook may be easily identified by their unique qualities, all possess a prominent black lateral stripe. Moreover, Snook are easily identified by their tapered head and snout, under-slung lower jaw, and large fins. The Snook's stripe assists it in detecting predators and bait. The five species of Snook that call Florida's waters home are the:
Common Snook
Small-Scaled Fat Snook
Large-scaled Fat Snook
Swordspine Snook
Tarpon Snook
The excellent team here at Chasin' Tales Fishing Charters will assist you, whether you're an experienced angler or new, in catching the numerous Naples area Snook.
Due to their physiology, Snook are most often reeled-in along the water's surface, these aren't deep water dwellers. Moreover, Snook are readily reaped from the backwaters and even the near shore. They especially enjoy warm water. A shallow cast grabs the Snook's attention. Once on the hook, these fish fight like no other.
The Snook is among the ocean's most beautiful fish. The snook's dorsal fins may range in color from dark gray to black, and its sides appear to be a tarnished silver. Moreover, these fish are known for their vibrant yellow fins and black stripe. However, the Snook's color can change with the season and while spawning.
The Snook is revered as one of the ocean's most ferocious ambush feeders. The Snook's eyes are located along the top of the head – these fierce fish look upward to ambush prey.
Captain Jeffery Crouse and the team at Chasin' Tales Charters will guide you in catching this hard fighting fish. According to Captain Crouse, Snook "are renowned for being one of the best fighting inshore species, making long runs, leaps and head shakes; [Snook are] a ton of fun to catch!"
Naples offers Florida's most exhilarating Snook fishing. However, it's not just the Snook fishing that makes this a thrilling expedition. The team at Chasin'Tales Fishing Charters are friendly, knowledgeable and outgoing. Their encyclopedic knowledge of the Gulf waters, a family-friendly atmosphere, and a sturdy ship make this an unforgettable adventure.