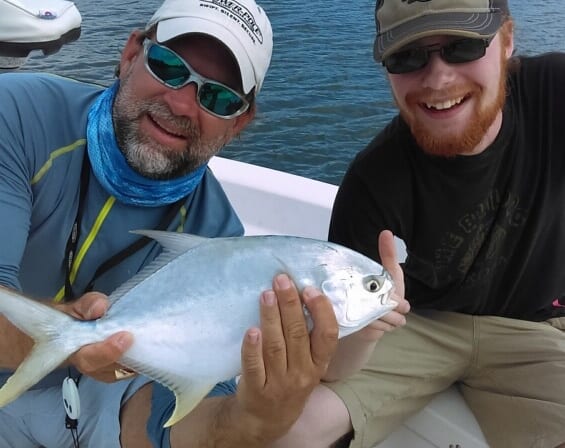 This article originally appeared on coastalanglermag.com. It was written by Tim O'Neil.
Guided fishing trips are a great way to broaden your fishing experience. Whether you've been fishing for years or have never picked up a rod, a guided expedition with a local expert is a one-of-a-kind experience.
Going on your first guided fishing trip (and paying the money to do so) can be a bit intimidating. You want to ensure you get the most out of the experience. In order to help you do just that, we spoke to Wayne Weber and Edgar Acra, two guides hosting trips on Fisher Guiding, to get their tips on how to make the most of your guided fishing experience.
Be Honest With Your Guide:
Honesty is always the best policy.
As Wayne explains, "The biggest thing you can do to improve your chances for success is to be honest with your guide. Be honest about what you expect and what you are capable of doing.
If a guide says, 'We are going to hike six miles,' but you're not able to, you need to be up front with them from the beginning. If you are honest with your guide from the beginning then they can cater the trip to your needs."
If You Can, Do Yourself A Favor And Book A Whole Day:
Many guides will offer trips that run different lengths of time – often four or eight hours and also day-long adventures. If you are able to, book a whole day to get the true fishing experience.
As Edgar shares, "If you can, book an entire day. That's when we can make the most of your experience. Fishing is not all catching fish. You've got to search and try new locations. The best possible way for us to get close to a 100% guarantee for success is to go out for a full day. I always recommend it because we can look in multiple spots and find success. You can't necessarily do that in four hours."
Be Willing To Try New Things:
Even if you consider yourself an expert in a certain type of fishing, you'll do well to be open to trying new styles and techniques at the recommendation of your guide if the situation calls for it.
As Wayne tells us, "You may be a fly fisherman but there may be a day when fly fishing isn't going to give you your best chance of success. So being willing to try other techniques would be my biggest tip. Keep an open mind.
Let's face it. When we go on a trip, we want to catch fish. The ones that are willing to change it up and try new techniques catch fish 99% of the time. Anglers that say, 'I'm doing nothing but fly fishing or nothing but float fishing, they're limiting themselves when they don't need to."
Bring Positive Vibes And A Passion For Fishing:
Wayne, Edgar, and almost any guide you will use all have a serious passion for fishing that they seek to pass on to their clients. If you bring a positive attitude to the boat, no matter the results, you can have that passion rub off on you.
"Fishing is all about positive vibes," shares Edgar. "Something is wrong if there is animosity inside the boat. You have to bring the right mindset with you in order to make the most out of your experience. Bring passion and positive vibes."
Talk To Your Guide In Advance:
A good guide should reach out to you early, if not when you book, at least a few days to a week before the trip. Be sure to have that conversation. It will go a long way to giving you the experience you want. "I try to talk to anyone that books with me as soon as possible," says Wayne. "I do my best to try and find out their true expectations and I'm always honest with conditions and what my expectations are. I'm upfront and honest with customers and I want to know what their expectations are and what they want to do. I cater the trip to what they tell me and having that early conversation helps me to do that."
Book A Guided Naples Fishing Charter
Chasin' Tales' Naples fishing charters gives you the opportunity to make a catch in the Gulf waters with your guide Captain Geoff. He has been navigating the Gulf for many years! To book a trip, call 239-216-0378 or click herefor more information.