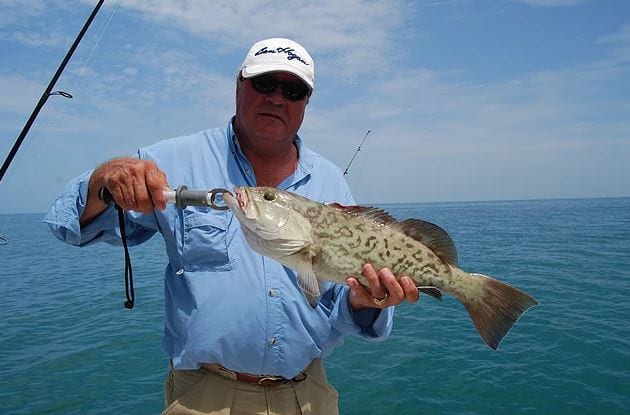 Naples Grouper Fishing Charters
In Florida, grouper is a popular fish spotted on menus everywhere. This fish is delish! It's a mild fish that is easily prepared and can be paired with just about any side.
When on a Naples fishing charter, anglers have the opportunity to come across a variety of different type of grouper in the waters, including: Gag, Black, Red, Scamp, Yellowfin, Yellowmouth, Rock Hind, Coney, Yellowedge, Warsaw, and Snowy.
When fishing for Grouper in Florida the size limit regulations different depending on the type of grouper. To learn about the fishing regulations about grouper, visit the Florida Fish and Wildlife Conservation Commission website.
​
Anglers can find grouper near rocky bottoms, reefs, drop offers, and in deep water more than 60 feet in depth. The most commonly found groupers are the gag grouper and the red grouper. On average, these fish can live up to 50 years.
They are known to be slow swimmers, and are not known to swim long distances. They have stout bodies, large mouths, and strong gills. The markings on a grouper's body will change to reflect its environment.  They can change their sex from female to male, if needed, especially when to replace a fish who has died.
Groupers eat small fish, squid, octopus, and crustaceans.
Naples Fishing Charters for Florida grouper in Southwest Florida
If you're looking catch yourself a grouper for dinner, book a Naples fishing charter today. All skill levels are welcome. Just book a Naples grouper fishing charter with Captain Geoff of Chasin' Tales. Call today at 239-216-0378 for more info on rates and the booking schedule.