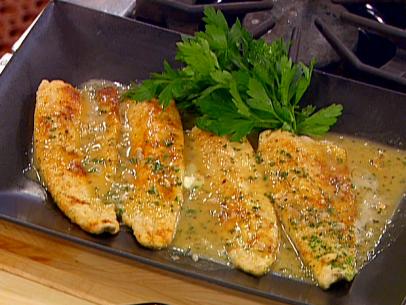 Trout a la Meuniere
Serves: 4
Have some trout at home and looking for a new way to cook it? Try this New Orleans-inspired dish. The mild trout is a great fish to use with a Creole seasoning. This recipe is very easy to make, healthy, and delicious. This recipe pairs nicely with rice pilaf, spinach, tomatoes, and goat cheese.
Ingredients
4 (6-ounce) trout fillets
1 teaspoon salt, plus more for seasoning
1 teaspoon Essence, recipe follows
1 cup all-purpose flour
2 tablespoons olive oil
1 stick, cubed, softened unsalted butter
1 tablespoon minced shallots
2 tablespoons white wine
1/4 cup lemon juice
2 tablespoons chopped fresh parsley leaves
Freshly ground pepper
Ingredients for Emeril's ESSENCE Creole Seasoning
2 1/2 tablespoons paprika
2 tablespoons salt
2 tablespoons garlic powder
1 tablespoon black pepper
1 tablespoon onion powder
1 tablespoon cayenne pepper
1 tablespoon dried oregano
1 tablespoon dried thyme
Directions for fish
Preheat the oven to 200 degrees F.
Season the trout fillets with the salt and Essence. Lightly dredge the seasoned trout in the flour, shaking off any excess. Set a 10-inch saute pan over medium-high heat and add the olive oil to the pan. Once the oil is hot, place the fish fillets in the pan, 2 at a time and cook for 2 1/2 to 3 minutes per side. Place the cooked fillets on an oven-proof platter and place in the oven while you cook the remaining fillets.
Once the fish are cooked, return the skillet to the stovetop and set on medium heat. Add the butter to the pan and once melted, add the shallots. As the shallots cook, and the butter stops foaming, about 30 seconds, add the white wine, lemon juice and parsley to the pan. Continue to cook for 15 to 20 seconds, swirling the pan occasionally. Season with salt and pepper and remove from the heat. Remove the fish from the oven and pour the sauce over top the fish. Serve immediately.
Directions for Seasoning
Combine all ingredients thoroughly.
Yield: 2/3 cup
Recipe and photo courtesy: Emeril Lagasse, foodnetwork.com
Book a Naples Fishing Charter
If you want to make this recipe fresh, you can with the help of a Naples fishing guide. Naples fishing charters with Captain Geoff of Chasin' Tales gives you the opportunity for you to make a fresh catch to bring home. To book a trip or for more information, call 239-216-0378 or click
here
.