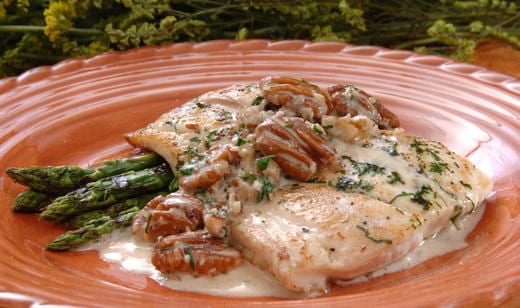 Snapper Pecan Meuniere
Since it's the winter season, why not enjoy some seasonal flavors with your fish? Pecan isn't just for pies, but it's also a great addition to an entree. Being a nut, pecans are naturally fatty, so they add a lot of flavor to mild dishes, including a fish like snapper. Enjoy this easy-to-make, savory dish!
Serves: 4
Ingredients
1 cup all-purpose flour
1/2 teaspoon paprika
1/2 teaspoon cayenne pepper
1/2 teaspoon freshly ground black pepper
1/2 teaspoon salt
2 tablespoons olive oil
4 (6-ounce) snapper fillets
4 tablespoons butter, divided
1/2 cup pecan pieces
2 tablespoons parsley, chopped
1 tablespoon garlic, minced
2 tablespoons fresh lemon juice
1 tablespoon Worcestershire sauce
1/4 cup heavy cream
1 teaspoon salt
1/4 teaspoon cayenne pepper
Directions
Combine flour and seasonings on a shallow plate.
Dredge the fillets in flour mixture, coating evenly.
Heat the oil in a large nonstick sauté pan over medium-high heat.
When oil is hot, pan fry fillets for 3 to 4 minutes on each side until golden and cooked through.
Transfer to a platter and keep warm.
In a medium pan; melt 2 tablespoons of the butter over medium-high heat until foamy.
Add the pecans and cook for about 1 ½ minutes, stirring constantly, until lightly toasted.
Add the parsley, garlic, lemon juice, Worcestershire, and cream.
Whisk for 1 minute and remove from the heat.
Add the salt, cayenne, and remaining 2 tablespoons butter, broken into small pieces; stir until the butter melts completely.
Spoon the sauce over the fillets and serve.
Recipe and photo courtesy of freshfromflorida.com
Catch a Snapper with Naples Fishing Charters
December is a good month to go out on the water in search for snapper. If you're looking to make a catch yourself, join Captain Geoff of Chasin' Tales on a Naples fishing charter. To book a trip, call 239-216-0378 or click
here
for more information.