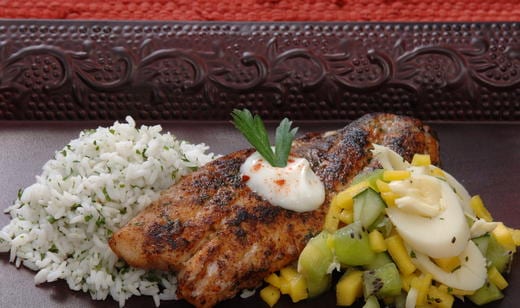 Snapper Tandoori
If you've enjoy Indian food, you've most likely tried the tandoori. If you enjoyed that flavor, why not try it with a delicious snapper? The strong mix of spices are great idea with this mild-flavored fish. This pairs nicely with white rice. Enjoy!
Serves: 4
Ingredients:
1 tablespoon fresh ginger, chopped
4 cloves garlic
1/3 cup vinegar
salt to taste
1 tablespoon ground coriander seeds
1 tablespoon ground cumin seeds
1 teaspoon ground cayenne pepper
1/2 cup olive oil
4 (6-ounce) snapper fillets
chutney
Directions:
In a blender, combine ginger, garlic, vinegar, salt, coriander, cumin, cayenne and oil together to form a fine paste.
Spread paste over fillets; marinate for 1-2 hours in the refrigerator.
Preheat the broiler on highest heat.
Place the marinated fillets on a foil lined broiling pan; broil for about 8-10 minutes or until fish flakes easily with a fork.
Serve with your favorite chutney.
Recipe and photo courtesy of: Fresh From Florida
Schedule A Naples Fishing Charter
If you want to make this recipe with some fresh snapper, you can catch your own alongside a Naples fishing guide. Naples fishing charters with Captain Geoff of Chasin' Tales gives you the opportunity for you to make some catches to bring home. To book a trip or for more information, call 239-216-0378 or click
here
.