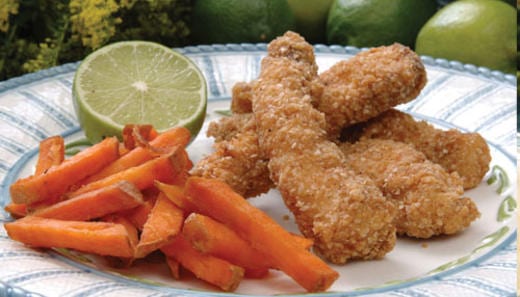 Chili-Cumin Snapper Fingers
This delicious recipe can be a great addition alongside other snacks or appetizers at a party, or you can serve this as your main course, and pair it with a side of fries. Try it out!
Ingredients
2 pounds snapper, cut into 1-inch strips
2 eggs
2 tablespoons milk
1/2 teaspoon salt
1/2 teaspoon freshly ground pepper
1/2 cup flour
1 teaspoon cumin
1 teaspoon chili seasoning
5 tablespoons butter
2 tablespoons olive oil
2 limes, halved
Directions
Pat snapper fingers dry with paper towel.
Whisk together eggs and milk in a small bowl.
Combine salt, pepper, flour, cumin and chili seasoning on a shallow plate.
Coat fish fingers with flour mixture; dip in egg mixture, then into flour mixture.
Set aside to dry for 5 minutes.
Melt the butter and oil together in a heavy skillet over moderate heat.
When butter foams, add the fingers; cook 3 to 5 minutes on each side until browned and cooked through.
Serve with lime halves.
Recipe and photo courtesy of: Fresh From Florida
Book a Naples Fishing Charter
Want to catch your own snapper? Naples fishing charters with Captain Geoff of Chasin' Tales gives you the opportunity to do so, while learning a lot about local Southwest Florida area. To book a fishing charter or for more information, call 239-216-0378 or click
here
.