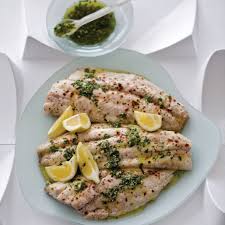 Redfish is a white-fleshed fish with big scales that you can opt to keep on while baking. Give this way of baking redfish a shot. It's moist, flavorful, and delicious. Enjoy!
Redfish on the Half Shell
Serves: 6
Ingredients
1/4 cup plus 2 tablespoons extra-virgin olive oil, plus more for brushing
2 redfish fillets with scales on (about 2 1/2 pounds) and pin bones removed
1/2 teaspoon crushed red pepper
Salt and freshly ground pepper
1/4 cup minced flat-leaf parsley
2 garlic cloves, minced
Lemon wedges, for serving
Directions
Preheat the oven to 475°. Lightly oil a large rimmed baking sheet. Lay the redfish fillets, skin side down, on the baking sheet and brush them with 2 tablespoons of the olive oil. Sprinkle with the crushed red pepper and season with salt and pepper. Roast the redfish fillets on the bottom rack of the oven for about 20 minutes, or until the flesh flakes with a fork.Meanwhile, in a small bowl, mix the parsley and garlic with the remaining 1/4 cup of olive oil and season with salt and pepper. Transfer the fish to a platter, drizzle with the parsley-garlic oil and serve with lemon wedges.
(Side note: Redfish on the half shell is also delicious when cooked on the grill!)
Recipe and photo courtesy of foodandwine.com, Quentin Bacon.
Interested in catching your own redfish to prepare and eat for dinner?
Can't get much fresher than that. Naples fishing charters with Captain Geoff of Chasin' Tales is a great opportunity for you to have fun and learn a lot about local fishing and the surrounding area. To book a trip, call 239-216-0378 or click
here
for more information.