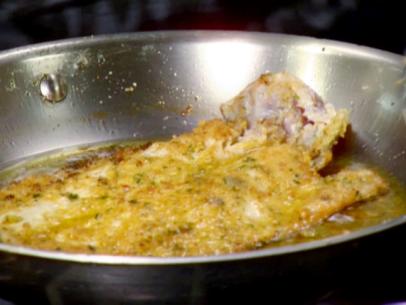 Naples Fishing Recipes: Pan-Fried Trout
Pan-frying trout is easy and quick! The sweet taste of this fish has a great contrast with the crunchy, fried skin. I recommend baking the trout ASAP, because this fish can get smelly quickly. Below is a delicious recipe for you to try out the next time you're in the mood for some trout. Enjoy!
Serves 4
Ingredients
1 1/2 cups bread crumbs 1 clove garlic, smashed 2 tablespoons finely chopped flat-leaf parsley 2 tablespoons finely chopped fresh oregano leaves Pinch crushed red pepper flakes 3 lemons, juiced and 1 lemon, zested and reserved Kosher salt 1/2 cup Dijon mustard 4 (10 to 12-ounce) trout, boned, belly flap removed, rinsed and patted dry, heads and tails left on Extra-virgin olive oil
Directions
In a wide flat dish, combine the bread crumbs, garlic, parsley, oregano, red pepper flakes, zest of 1 lemon and salt, to taste.
In a small bowl, mix together the mustard and the juice of 1 lemon. Brush both sides of the trout with mustard mixture. Coat the fish on both sides with the seasoned bread crumbs and press firmly to adhere the crumbs to the fish.
Preheat the oven to 250 degrees F.
Coat a large skillet with about 1/4 to 1/2-inch of olive oil and bring to a medium-high heat. Add the fish to the pan, skin side down, and cook the fish 2/3's of the way, about 6 to 7 minutes. Carefully turn the fish over and cook the other side until the fish is brown and crispy, about 2 to 3 minutes. Remove the fish from the pan and drain on paper towels. You will probably need to work in batches to do 4 fish. After the first batch is done and dried on paper towels reserve it on a rack in a warm oven.
When all the fish has been fried, remove the oil and any brown bits from the pan. Add the butter and remaining lemon juice and swirl to combine as the butter melts. Season with salt, to taste, and reduce by about half. Transfer the fish to a serving platter, drizzle with the butter lemon sauce and serve.
Recipe courtesy of Anne Burrell; photo courtesy of foodnetwork.com
Go on A Naples Fishing Charter
Interested in catching some trout of your own to prepare and eat for dinner? Can't get any fresher than that. Naples fishing charters with Captain Geoff of Chasin' Tales provides an opportunity for you to make some catches, and learn a lot about local fishing and the surrounding area. To book a trip, call 239-216-0378 or
click here
for more information.