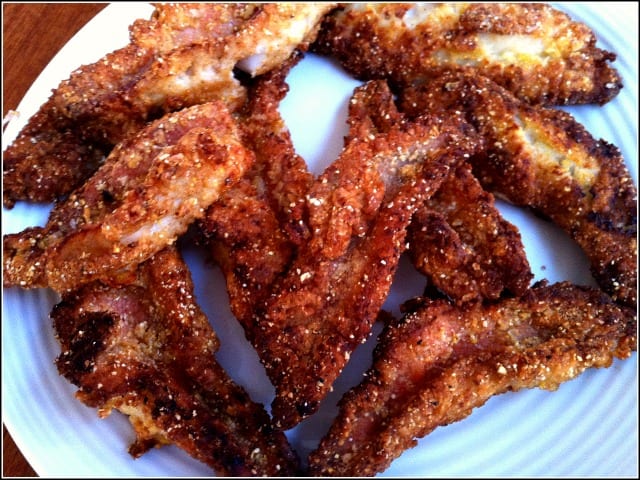 Emeril Lagasse's preparation of redfish comes with plenty of flavor from a light crusty outside; the Rusty Rub isn't overpowering or too heavy. Enjoy!
Ingredients
4 redfish fillets (6 to 8 ounces each)
2 Tablespoons Rustic Rub (see below)
1/2 cup flour
1 egg, beaten
1/4 cup water
1/3 cup vegetable oi
Ingredients for Rustic Rub 8 tablespoons paprika
3 tablespoons cayenne
5 tablespoons freshly ground black pepper
6 tablespoons garlic powder
3 tablespoons onion powder
6 tablespoons salt
2 1/2 tablespoons dried oregano
2 1/2 tablespoons dried thyme
Directions
Combine all the ingredients for the rub a mixing bowl. Blend well. Can be stored in an airtight container in your spice cabinet for up to 3 months. Season the fish with 1 tablespoon of the rub. Combine the flour with 2 teaspoons of the rub in a shallow bowl. Mix together the egg, water, and the remaining 1 teaspoon rub in another bowl. Dredge the fish, first in the seasoned flour, then in the egg mixture, then again in the flour, shaking off any excess. Heat the oil over medium heat in a large nonstick skillet. Panfry the fish for 4 to 5 minutes on each side. Drain on paper towels and serve immediately.
Recipe courtesy: Louisiana Real & Rustic by Emeril Lagasse; Photo courtesy: heatheratwood.com
Looking to catch a redfish to bring home for dinner?
Join Captain Geoff of Chasin' Tales for a Naples fishing charter. To book a trip, call 239-216-0378 or click
here
for more information.