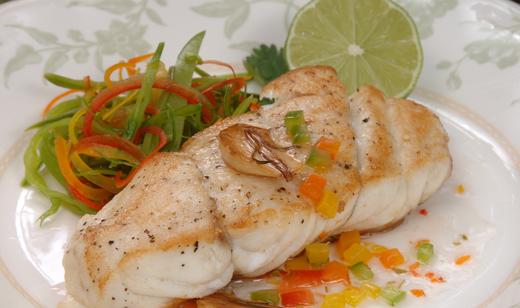 Had yourself an outstanding day grouper fishing? Or just in the mood to pick some up from the market tonight? This recipe is a simple, yet tasty, way to prepare grouper. The lime and butter flavor really pair well with such a mild-flavored fish. Being cooked on a pan, you get a nice crispy taste with every bite.
Key Lime Butter Grilled Grouper
Serves 4
Ingredients
1 1/2 pounds of red grouper fillets
2 tablespoons softened unsalted butter
2-3 Key limes
Zest of one Key lime
Sea salt and freshly ground black pepper to taste
Directions
Heat a grill pan on medium to medium high heat.Stir the zest and juice of one key lime into the softened butter.Brush Key lime butter on each red grouper fillet and season with salt and pepper to taste.Place fillets on the grill pan. Grill time will depend on the thickness of your fillets, so watch for the red to dissipate from the fillet and the fish to become opaque and flaky.Carefully flip the fillets and continue to monitor doneness.Once the fillets are cooked through, place on serving dish and brush with any remaining butter.
This can be paired well with an avocado and tomato salad. Grouper is also known to go well with white wine!
Recipe courtesy of: Shaken Together, shakentogetherlife.com
Photo courtesy of: freshfromflorida.com