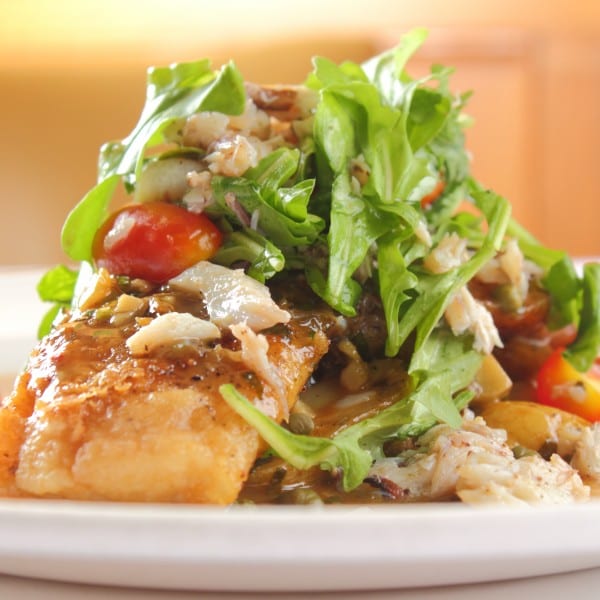 Delmonico's Pan Sautéed Drum Meuniere
Serves: 4
Ingredients
Meuniere Compound Butter
Four 6-ounce portions skinless drum fillets
Salt and freshly ground black pepper
½ cup flour
4 tablespoons unsalted butter
4 tablespoons clarified butter, canola, or olive oil
1/3 cup minced shallots
12 roasted fingerling potatoes, halved lengthwise
4 artichoke bottoms, quartered
1 cup chicken stock
1 ounce arugula
12 grape tomatoes, halved
½ pound jumbo lump crabmeat
2 teaspoons fresh lemon juice
Extra-virgin olive oil, to taste
3 tablespoons capers
Directions
Prepare the Meuniere Compound Butter according to the recipe below and refrigerate until you are ready to cook the fish.Preheat the oven to 350°F. Season the fish fillets on both sides with salt and pepper and then lightly dredge in the flour, shaking to remove any excess.Heat a large nonstick skillet over medium-high heat. When hot, add the butter and cook, swirling the pan, until the butter is golden brown and has a nutty fragrance. Immediately add 2 tablespoons of the clarified butter or oil. When the oil-butter mixture is very hot, add the fillets and cook until crisp and browned on both sides, 2 to 3 minutes per side. Remove the fish from the skillet to an oven proof pan. If the fillets are not completely cooked through, transfer to the oven to finish cooking while you make the sauce.Wipe the skillet clean with paper towels and return it to the stovetop over medium-high heat. Add the remaining 2 tablespoons of clarified butter or oil and, when hot, add the shallots. Cook until the shallots are translucent, then add the potatoes and artichoke bottoms and cook, tossing, for 2 to 3 minutes, or until lightly golden and heated through. Add the chicken stock and cook, stirring occasionally, until reduced in volume by two-thirds. Add the Meuniere Compound Butter and stir until the butter has melted into the broth to form a sauce that is thick enough to coat the back of a spoon. Remove from the heat so that the sauce does not boil and set aside while you assemble the garnish.In a medium bowl, combine the arugula, tomatoes, and crabmeat. Season lightly with salt and pepper and add the lemon juice and extra-virgin olive oil to taste; the salad should be just lightly dressed.To serve, spoon some of the sauce and vegetables onto the center of 4 serving plates and top each with a piece of the fish. Spoon more of the sauce over the fish, then sprinkle some of the capers over the fish. Garnish with some of the arugula salad and serve immediately.
Recipe and photo courtesy: Emerils
Book a Naples Fishing Charter with Captain Geoff of Chasin' Tales
This meuniere sauce is fresh, light, and yet still gives a bold New Orleans flavor. Want to catch your own fish for dinner? Come join Captain Geoff of Chasin' Tales for a Naples fishing charter. All skill levels are welcomed! To book a trip, call 239-216-0378 or click
here
for more information.