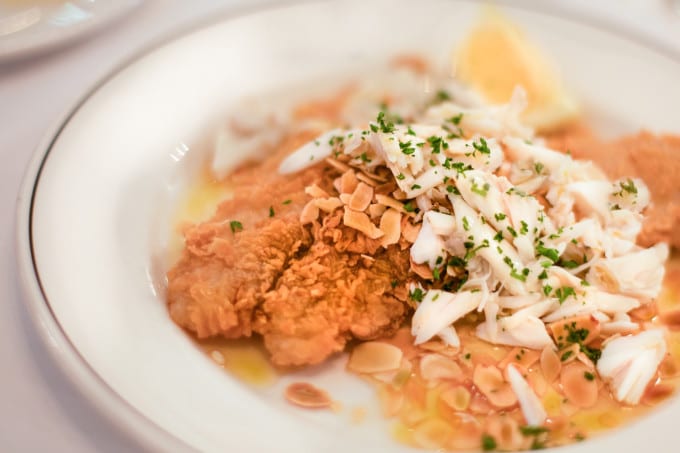 Black Drum Amandine with Crabmeat
Serves: 4
Ingredients
8 (4 to 6-ounce) fillets of black drum, skin removed
2 cups all-purpose flour
2 tablespoons Acadiana Table Cajun Seasoning Blend, see recipe here
1 cup half and half
Kosher salt and freshly ground black pepper
2 sticks (16 tablespoons) of unsalted butter
¾ cup sliced almonds
1 tablespoon finely minced garlic
Juice of ½ lemon
Zest of ½ lemon
1 pound fresh jumbo lump Louisiana crabmeat
2 tablespoons chopped flat-leaf parsley
4 lemon wedges
Directions
Remove the fish fillets to a cutting board and inspect them carefully, removing any small bones. Place them in a covered container and refrigerate.In a shallow container, add the flour and Cajun seasoning, and blend together.In a shallow container, add the half and half.Remove the fish fillets and sprinkle lightly with salt and pepper. Place the fillets in the half and half and then add to the seasoned flour. Roll them to coat on both sides.In a large skillet over medium-high heat, melt the stick of butter. Shake any excess flour off each fillet and place in the hot skillet being careful not to crowd the pan. Sauté the fillets until browned on both sides, about 2 to 3 minutes. Remove to a platter and keep warm. Repeat until all the fish is cooked.In the same skillet on low heat, add the remaining stick of butter along with the almonds. Stir the mixture careful and watch as both the almonds and the butter begin to brown, about 3 to 5 minutes. Turn the heat off and add the garlic along with the lemon juice and lemon zest. Stir the sauce mixture as it continues to cook and then pour over the fish fillets.Wipe the pan clean using paper towel and place the pan on low heat. Add the crabmeat along with the chopped parsley and being careful not to break up the lumps, gently toss until warmed through, about 1 minute. Remove the pan from the heat.For plating, place two sautéed fish fillets in the center of the plate and spoon over the almond butter sauce. Top with a portion of the crabmeat and serve with a lemon wedge on the side.
Recipe and photo courtesy of Acadiana Table
Come on Out on Naples Fishing Charter
If you're in the mood for Cajun-inspired dish, this one is definitely worth trying! It's even more delicious when the fish is ones you caught earlier that day! On a Naples fishing charter with Captain Geoff of Chasin' Tales, you get the opportunity to make a catch, while learning a lot about the local Southwest Florida area. To book a trip, call 239-216-0378 or click
here
for more information.