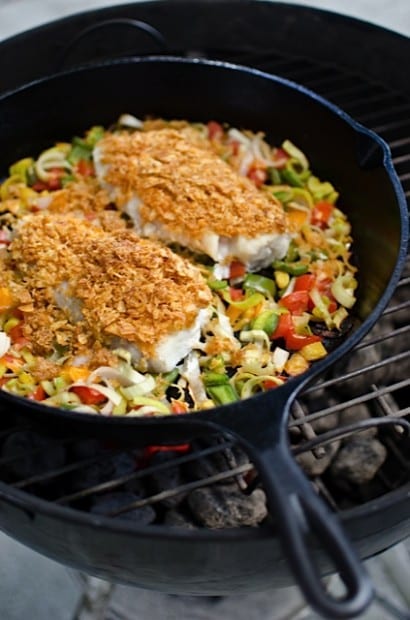 Tripletail is a delicious fish all on its own, so you don't really need to jazz it up all that much. For the most part, this white fish is sweet tasting, and is similar to grouper. It truly shines when its sautéed, baked, or blackened. With this fish, less is more!
Here is a delicious crusted Tripletail recipe paired nicely with some fresh chopped veggies. Enjoy!
Crusted Tripletail with Vegetables
Ingredients
1 cup Chopped Tomatoes
1 cup Sliced Leeks
½ cups Chopped Green Bell Pepper
1 Tablespoon Garlic, Minced
⅛ teaspoons Salt
⅛ teaspoons Pepper
2 whole Fillets (8 Oz. Size) of Tripletail
½ cups Panko Bread Crumbs
½ cups Grated Parmesan Cheese
½ cups Plain Potato Chips, Crushed
½ teaspoons Cayenne
½ teaspoons Paprika
2 Tablespoons Butter, Melted
1 Tablespoon Green Onions, Chopped for Garnish
Lemon Wedges, To Serve
Directions
Combined the tomato, leek, green bell pepper and garlic in a small bowl and spread evenly around bottom of a cast iron skillet. Salt and pepper fillets and place on top of vegetables.
In a small bowl, combine bread crumbs, Parmesan cheese, potato chips, cayenne, and paprika. Stir in melted butter. Evenly top filets with crumb mixture.
Place pan, uncovered, on hot grill grate and close grill. Allow fillets to cook approximately 20 minutes or until they flake easily or register 140ºF in the center. Transfer cooked fish on to platter, surround with cooked vegetables, sprinkle scallions on top and serve with lemon wedges.
Note: This dish can be cooked in the oven at 375ºF on a sheet pan using the same instructions.
Recipe and photo courtesy of: Ray Golden, tastykitchen.com
Wanting to catch a fish yourself to bring home for dinner?
Join Captain Geoff on a Naples Fishing Charter. Call him at 239-216-0378 or
click
to book a charter.