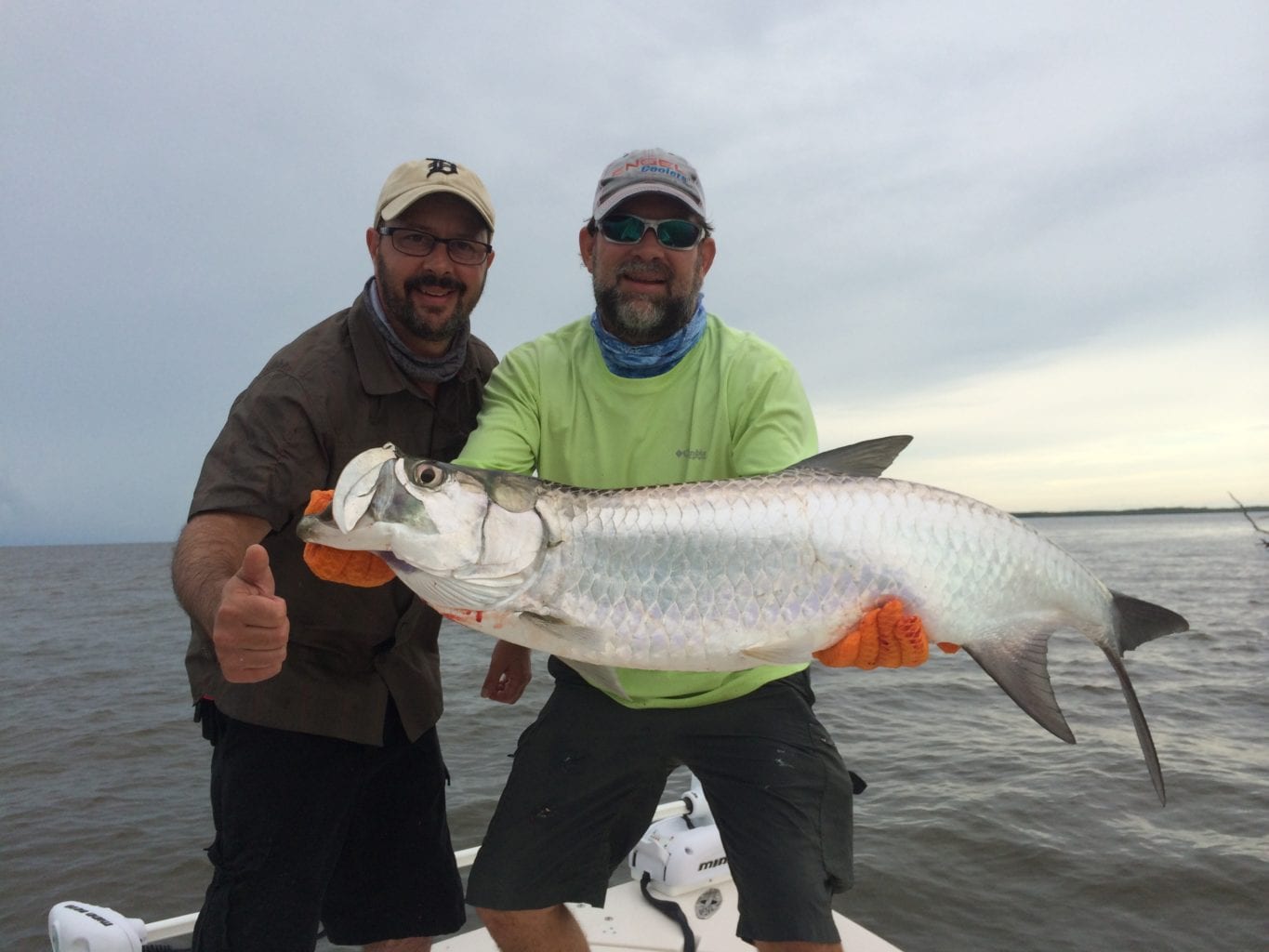 Tarpon fishing goes WAY back. Believe it or not, tarpon have been swimming around the oceans since prehistoric times. These fish can be found swimming around the shallow coastal waters of Virginia all the way down to central Brazil, through the Gulf of Mexico and into the Caribbean Sea, and even all the way across the ocean along the coast of Africa.
For the tarpon that live around Florida, they gather around the coasts during the month of April before they begin their journey offshore to spawn. During this time, the tarpon swim in circles, forming a daisy chain, which scientists believe may be a prenuptial dance in preparation for spawning. By August, 90 percent of the Florida tarpon have spawned for the year.
Tarpon fishing has a long, thriving history in the state of Florida. Tarpon is one of the most popular sport fish in Florida; this fish has great stamina, strength, fighting ability, and can jump up to 10 feet out of the water. They are quite the feisty fish as they fight and flip at the end of a line. And since they are known to grow large in size (world record is 286 pounds, 9 ounces), they put up quite the fight and are certainly a challenge to reel in.
In the late 1800s, fisherman hunted for tarpon in canoes with harpoons, hand lines, and other gear. Back then, Floridians would dry strips of the tarpon's flesh to make jerky. These days, tarpon can only be fished recreationally in the state, and most anglers and fisherman catch and release and isn't often eaten because the flesh contains many, tiny bones throughout that are hard to clean away. Tarpon are mostly consumed in Africa and Central and South America.
By 1953, Florida set a fishing limit of two tarpon per day and prohibited the sale of them. In 1989, the state began requiring anglers to purchase a permit (jaw tag) to possess or harvest/kill a tarpon. Today, the cost for each tag is $50. It is illegal to be in possession of a tarpon without a tag. Overall, more tarpons are caught and found on the Gulf side than Florida's east coast. The best-known spots for tarpon fishing in Florida are Boca Grande Pass, Homosassa, and the Florida Keys.
In Florida, tarpon tournaments are a popular event and occurrence. One tournament in the Tampa Bay area has been going on since before World War II.
Want a shot at catching one of Florida's prized gamefish? Book a Naples fishing charter with me, Captain Geoff of Chasin' Tales Backwater and Nearshore Fishing, to get you chance to watch a mighty tarpon put up a good fight. To book a trip with me, call 239-216-0378 or click
here
for more charter information.