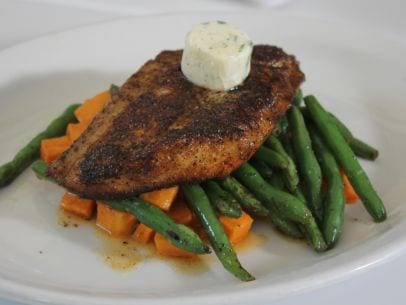 Blackened Drum
If you haven't tried black drum before, I highly recommend you do! Black drum is a mild, sweet-flavored white fish with large, moist flakes. If you like red snapper, you'll definitely enjoy this fish. They're great for baking, broiling, grilling, and sautéing. Below, I've shared a delicious recipe for Blackened Drum with some tasty herb butter to throw on top. This fish pairs nicely with veggies like sweet potatoes and green beans. Enjoy!
Ingredients for Drum
1 cup Cajun blackening spice
1 tablespoon kosher salt, if needed
6 skinless black drum fillets
1/4 cup grapeseed oil
Herb Butter, recipe follows, for serving
Ingredients for Herb Butter
1 pound unsalted butter, at room temperature
1/4 cup lemon juice plus 2 tablespoons lemon zest
2 tablespoons chopped fresh parsley
Kosher salt and freshly ground black pepper
Directions
For the blackened drum: Combine the blackening spice and salt, reducing or omitting the salt as needed (taste the spice mix first as some brands already have salt added). Spread the spice mixture on a plate and coat each side of the fish fillets.
Heat a large skillet over high heat. Add the grapeseed oil, gently lay the fish in the skillet and sear until the spices have blackened and formed a nice crust on the fish, 3 to 4 minutes. Gently flip the fish and sear on the second side for 3 to 4 minutes more. Remove from the pan and allow the fillets to rest for a few minutes before plating.
For the herb butter, Combine the butter, lemon juice, lemon zest and parsley in a bowl and mix well. Season with salt and pepper. Cover and store in the refrigerator for up to 1 week. Yield: about 1 pound.
Recipe and photo courtesy of: Robert Irvine, foodnetwork.com.
Book a Naples Fishing Charter
Want to catch your own fresh black drum? Naples fishing charters with Captain Geoff of Chasin' Tales gives you the opportunity for you to make some catches, while learning a lot about local Southwest Florida area. To book a fishing trip or for more information, call 239-216-0378 or click
here
.