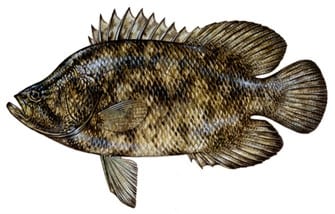 Thinking about trying tripletail for dinner? You should! This fish has got a great, flavorful taste – you won't be disappointed. Tripletail is a flaky, sweet fish that is similar to grouper. They also don't last in the fridge or on ice for as long as other fish, so eat them up quick!
Tripletail is great to bake. Below is a simple and citrusy-flavor baked tripletail recipe for you to try out!
Baked Tripletail
Ingredients
1/2 cup softened butter, plus more for baking dish
2 pounds tripletail cut into 4 pieces
1 teaspoon salt
1 teaspoon salt
juice of 1/2 lemon
2 teaspoons garlic powder
2 teaspoons onion powder
1/2 cup key lime juice
1/4 cup fresh orange juice
12 slices key limes
8 orange slices
Directions
Preheat oven to 325 degrees F.
Lightly butter a 9×13-inch glass baking dish and set aside.
Season the fillets with salt, pepper, garlic and onion. Place fish into prepared baking dish. Spread about 2 tablespoons of softened butter over the top of each fillet.
Pour in the lemon, lime, and orange juices and then cover each fillet with 3 slices of lime and 2 slices of orange. Bake in preheated oven until fish is opaque and flakes easily with a fork (about 20-25 minutes).
Recipe courtesy of: seaeaglemarket.com
Looking to catch some fish for yourself?
Join Captain Geoff, a Naples Fishing Guide, on a Naples Fishing Charter today. Call him at 239-216-0378 or click
here
to book a charter.