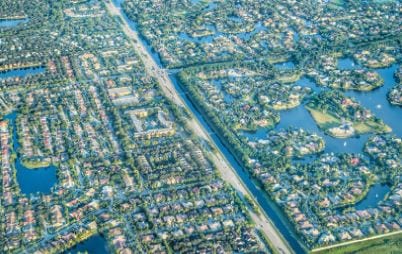 This article and photo previously appeared on floridasportfishing.com. This article was written by Matt Arnholt.
Area anglers know South Florida's widespread canal system as the home of sought-after freshwater species like largemouth bass and butterfly peacocks, among many other local targets and exotic intruders alike. In fact, the FWC confirms there are 32 exotic fish species found to be reproducing in Florida's freshwater venues. The uniquely urbanized fishery is clearly alive and well, and while there is no doubt that these canals provide year-round action for anglers and habitats where certain fish thrive, most are unaware of the true purpose of this complex system of waterways and how it came to be.
Benjamin Franklin once said, "When the well's dry, we know the worth of water." In Florida, though, the proverbial well is often overflowing, and to say that Florida receives a lot of rain is a severe understatement. The fact of the matter is that the Sunshine State has always and will always experience abundant rainfall. Historically, we often have more than we can handle—or at least what flood managers tell us we can handle. While flooding is no surprise in a state with a landmass that's relatively flat and just slightly above sea level, when we are graced with heavy rains it can result in severe inland flooding with water that has nowhere to go.
After Florida experienced torrential rains and heavy flooding as a result of hurricanes in the mid 50s, action was taken when Congress issued the Central and Southern Florida Project for Flood Control (C&SF Project) through the Flood Control Act of 1948.
For the past 60 years, the C&SF Project has been in effect and was run by the federal government until 1972, when the South Florida Water Management District (SFWMD) was formed and given control of the operation. The project has certainly grown from its humble beginnings in the mid-1900s. What started as four main canals running from Lake Okeechobee to the southeast has developed into many additional miles of primary, secondary and tertiary waterways that operate in conjunction with the original canals of the C&SF.
In its primary function, the project continues to be a success as the canals provide a solution to heavy rains that would otherwise lead to excessive inland flooding. When added up, the entire system includes a surprising 2,600 miles of canals and spans across a 17,000 square mile region containing 16 counties. However, Lake Okeechobee and environs south, east and west are the center of heated debate regarding polluted lake discharges and the devastating effect they are having on wildlife throughout the region.
While this widespread, man-made canal system once turned flooded waters into thousands of acres of fertile land used for vegetable and fruit harvests, over time the majority of land has given way to a more profitable crop—sugar cane. Florida's sugar industry has since become a cash-rich cartel at the expense of the Everglades seeing way too little water and the estuaries along the coasts receiving way too much.
Unlike a naturally flowing river, these canals require constant oversight and additional man-made structures to function properly. This is why we see pump stations, gates, locks and culverts sprouted across the region to adjust or reverse the flow of these waterways when deemed necessary. Today, there are over 1,300 control structures and 64 pump stations scattered in different locations to help the SFWMD manage and regulate the flow of water.
Back in 1948, the federal government had a clear vision for what it wanted this system to accomplish. And while the primary efforts in flood control and water supply remain successful, the project did not produce the intended environmental impact across the region, which has recently experienced severe negative effects from the institution of these canals. Unfortunately, the muddying of the St. Lucie and Caloosahatchee rivers, along with a massive seagrass die-off in Florida Bay, is in direct correlation to the manipulation of flow all for the benefit of Big Sugar.
It's nearly impossible to overturn the inherent priorities of water managers, politicians and high-paid lobbyists, but as hope floats in the restoration of the natural flow of water south to the Everglades anglers have found a silver lining in the canal systems offering one-of-a-kind light tackle angling opportunities.
Whether catching clown knifefish in Lake Ida, snakehead along the Tamiami Canal, peacocks at Snapper Creek or largemouth bass on the C-11, the expansive system of canals connecting South Florida's interior provides unique fisheries for adventurous freshwater anglers.
As is often the case, with the good comes the bad and it's no different with South Florida's interwoven canals. Hopefully the future of water management across the region evolves from learned experiences as we make strides to restore the natural flow of the Everglades while maintaining urban and agricultural water supply and flood control. Though it's impossible to reverse damage already done, we must do whatever it takes to balance the ecosystem and protect the natural resources at stake before they're too far gone.
Plan a Naples Fishing Charter
Looking to go out on a Naples fishing charter? Naples fishing charters with Captain Geoff of Chasin' Tales gives you the opportunity to make a catch in the beautiful Gulf waters. Captain Geoff has been navigating the Gulf waters for years! To book a trip, call 239-216-0378 or click herefor more information.