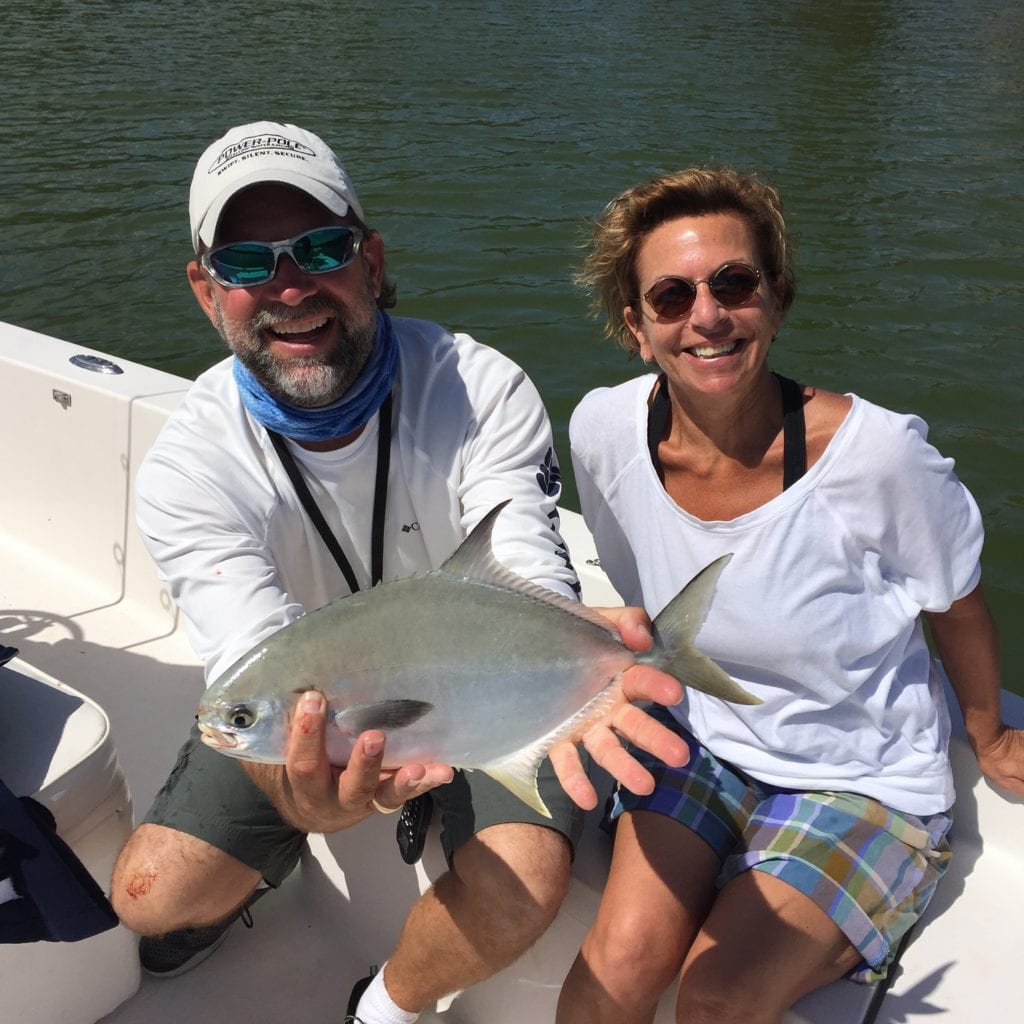 This article originally appeared on floridasportsfishing.com. It was written by Capt. Steve Dougherty.
Often times anxious anglers frustrate matters and make their time on the water more complicated than it needs to be. Instead, make your angling adventures more enjoyable and more successful by fishing smarter, not harder. Lucky for you this shouldn't be too difficult, as the modern fisherman has an enormous array of revealing resources and advanced equipment at his or her fingertips. Whether you're a freshman or professor, there are certain things you can do to improve your odds of getting connected. And while the only guarantee in fishing is that there are no guarantees, live by the following recommendations and you'll surely become a more successful angler—that's a promise!
1. Team Up With Technology In order to maximize your time on the water your efforts must start well before you ever leave the dock. More so than ever before, anglers have an incredible array of forecasting and reporting services providing accurate and up-to-date marine and weather conditions. Whether it's provided by NOAA, the U.S. Navy, live beach cams, university research programs, free public access websites or subscription-based services, detailed data is at your fingertips. However you choose to acquire this data, you need to be able to understand, locate and predict surface currents, temperature breaks, convergence zones, lunar and solunar phases and tidal fluctuations in addition to a host of other stats. With time on the water precious and the cost of fuel constantly rising, you need to do more than simply head out with nothing more than high hopes. Slight changes in weather and water conditions can have huge impacts on game fish feeding activities. By understanding how different species react to different parameters you will be able to accurately forecast their future locations and feeding habits.
2. Fish the Seasons While many fish calling Florida home can be encountered year-round, certain species are more prevalent during seasonal migrations. Even though your favorite target may be neon green dolphin, you probably won't have much success during the coldest months of the year. While you can certainly alter course, try and focus your efforts on what you are most likely to catch. Cobia and blackfin tuna in the spring, sailfish in the winter, etc. Keep a detailed logbook of your efforts and after a few years you'll be able to predict runs and have a heads up of what's going to happen. Whenever you catch a fish be sure to record the date, time of day, weather conditions, water conditions, tide and moon phases, gear used, and bait and lure information. Don't forget to include the location of the catch as well as any other pertinent data. Before long you'll have a solid understanding of seasonal migration patterns and when history repeats itself, you'll be ready to capitalize.
3. Be Ready For Anything & Everything In order to achieve maximum success, you need to be ready for whatever crosses your path. While having the proper rods rigged and ready to go is a no brainer, your organization skills are also crucial. You need to be able to quickly scour your tackle boxes to locate the perfect lure or hook when the situation arises. Lost time due to rummaging through unorganized gear will cost you in the long run. Be ready to change it up when need be and don't be afraid to experiment.
4. Local Knowledge Goes A Long Way It's obvious why local knowledge is so valuable. The more time you spend on the water in any particular region the better understanding you'll have of that specific area. A little insider information is priceless and readily available. One of the easiest ways to get connected is to search the Internet. Public forums are a great way to fish for tips and secrets. Tackle shops are yet another area you can dig for information, but the greatest way is to go straight to the source. Local captains and professional guides spend the most time on the water and are without a shadow of doubt the most knowledgeable resources for local tips and tricks. In lieu of days of unsuccessful fishing, charter a local guide and learn straight from the source. While spending time with a seasoned salt won't turn you into a pro overnight, if you pay close attention and observe the minute details your time on the water will be worth every penny.
5. Failure Is Not An Option You've persevered through poor weather, issues at the ramp and uncooperative fish. Then all of a sudden everything comes together…only to result in a lost fish due to a sticky drag. Caring for your tackle is one of most important things you can do and a common connection of all consistently successful anglers. And considering the hefty price tag of today's modern rods and reels it's incredible how poorly some anglers treat their equipment. Whether it's doused or dunked in saltwater, stored improperly or battered by a banging jig, our rods and reels aren't bulletproof and need to be cared for properly to ensure season after season of reliable, trouble-free use.
6. Pay Attention To Details Is your leader frayed? Are you certain you've tied a proper knot? Is your fresh bait really as fresh as it could be? It's the countless little things that add up to determine the overall outcome of any fishing trip. It's unfortunate, but many of these small things are often ignored or overlooked until it's too late. Don't become a statistic with nothing more than fish tales of the one that got away to show for your efforts. Check everything and check it twice. If you think your ballyhoo/lure combo is fouled with grass—check it. If you think your trolling motor battery is low—charge it. If you think your leader is frayed—change it.
7. Get That Fish To The Boat Fishing is thrilling and you worked so hard to get to this point, so enjoy the fight but remember the longer your fish is in the water, the greater the chance it has of escaping. Whether it's a toothy critter or tackle-busting structure, there are obstacles in the water that will thwart even the most determined efforts. Because of this you need to get your fish to the boat as quickly as possible. This will also help with a healthy release if that is the intention. When a fish is peeling drag take the opportunity to relax. The moment it stops you need to be ready to put on the pressure in an effort to turn the fish's head. If you don't work hard to pump and reel you are giving a big fish a chance to regain its strength. Need more stopping power? Thumb or cup the spool and be prepared to back off if the fish decides to make a long, steady run.
In closing, the only way to become a consistently successful angler is to fish as often as you can. In our busy lives it's not so easy to sneak out and hit the water as often as we'd all like to, but the saltwater environment is extremely challenging and constantly changing. You have no choice but to go with the flow and take what Mother Nature dishes out. Even though your odds are best under perfect conditions, don't hesitate to give it a shot even when forecasted conditions don't appear promising. Often the greatest catches occur when least expected. Remain confident in your abilities, but don't think you are untouchable. No matter your skill level, there's always room for improvement.
Book A Guided Naples Fishing Charter
Chasin' Tales' Naples fishing charters gives you the opportunity to make a catch in the Gulf waters with your guide Captain Geoff. He has been navigating the Gulf for many years! To book a trip, call 239-216-0378 or click herefor more information.