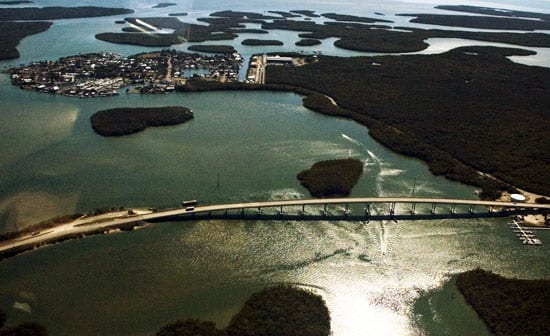 Who doesn't like "escaping it all" from time to time? A great place to do that is in a beautiful, quaint fishing village. Goodland, which is on the southeast end of Marco Island, is a wonderful, small village to explore and get away from it all. With a population of only 300 in the village surrounded by breathtaking views of inland waterways, Goodland is a quiet place to enjoy some of nature's finest surroundings.
This charming village was believed to have been founded in the late 1800s by Johnny Roberts. Roberts named the area Goodland Point, because of a 40-acre shell mound that remained from the Calusa Indians. By 1890, he sold his squatter's rights to Samuel Alexander Pettit. In 1938, a state road and swing bridge was installed for better access to the area. In fact, Pettit's son build the road that led to the state road intersection from the shells of that Calusa Indian shell mound. These roads made the trips to Fort Myers or Miami for commodities and supplies easier.
In 1949, people began to buy property on Goodland, and the area soon became a great spot for fishing, both recreational and commercial. To this day, there is only one road into the village. Boats are everywhere. Unlike many other Southwest Florida towns and islands, Goodland remains almost in a different era; a glimpse into the past of a simpler less crowded and commercialized time.
Being surrounded by water, Goodland certainly is a picturesque place. In fact, many artists flock to the area and sit along banks and bays to paint.
Goodland is known to be quiet during the week and busy on the weekends. Stan's Bar, the Old Marco Lodge Carb House, and the Little Bar are town hot spots for people to unwind and socialize. The annual Mullet Festival and Buzzard Lope Queen Contest brings thousands of visitors to the small village for food, drinks, and dancing.
From this village, people have quite a few options of excursions to take, including: Everglades area tours, birding and wildlife tours, Ten Thousand Island tours, and, of course, fishing charters.
Chasin' Tales Fishing Charters not only does Naples fishing charters but Marco Island fishing charters, as well. Chasin' Tales leaves from The Goodland Boat Park, which has parking, bathrooms and a tackle and bait center. From there, Captain Geoff, your Marco Island fishing guide, will start you on your journey and fishing charter adventure into the Ten Thousand Islands.
Goodland is a great spot to jump on a fishing charter as it's between the Everglades and the Ten Thousand Islands, which are home to exotic plant life and wildlife for visitors to enjoy. If you're looking to book a fishing charter, contact Captain Geoff at 239-216-0378 or click
here
for more information.