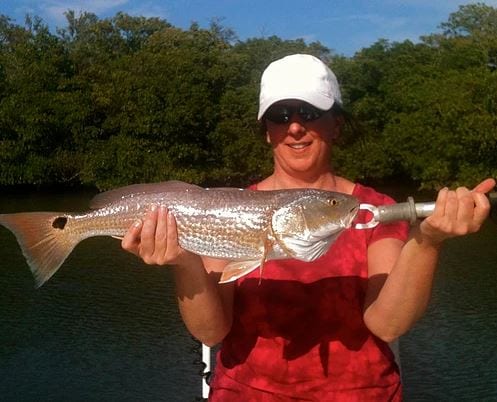 This article originally appeared on floridasportfishing.com. It was written by Capt. Mike Genoun.
I'm no expert on the flats and regretfully, I've yet to master the long rod. I can barely drive a streamer into the wind more than a couple of boat lengths, but I have spent many days deep in the backcountry and certainly know a thing or two about redfish. I've learned from personal experience that these abundant shallow water game fish can be cooperative and easy to find and fool, and also some of the most frustrating to locate and lure. I also know that consistently coming out on top against Florida's most prolific inshore species requires a certain mindset and special set of angling skills.
Redfish roam far and wide, enjoying a broad range of preferred habitats across many diverse venues. You can find reds tailing in only inches of water far back in tidal bays and lagoons as they sniff through the substrate, and also schooling in massive numbers off area beaches in depths approaching 40 feet.
Redfish are regularly taken by shore-bound anglers from beaches, piers, docks and jetties, and also by fishermen honing their skills from nearly every type of watercraft known to man. The bronze beauties made famous by Chef Paul Prudhomme are quite possibly the most accessible and highly targeted of all game fish found patrolling Florida waters.
Cruising stained shallows, redfish in every stage of their life cycle feed by sight, sound and smell, so it's vital that whatever you are offering looks, sounds and smells like the real thing. While a long list of natural baits will do the trick for those who prefer to fish meat, fresh is best and the most important consideration here.
For artificial junkies who prefer an even greater challenge, soft plastics have historically taken top honors when it comes to favored fakes. Impaled on a jighead or rigged weedless on a wide gap worm hook, scented paddletails and twitchbaits rarely go unnoticed.
However, there is an exciting alternative for inshore anglers looking for an edge in this high-pressure fishery where even the slightest advantage can make a big difference. The latest and arguably hottest innovation to sweep the redfish scene highlights Electronic Baitfish Sound Technology, which is embedded on a smart chip fixed inside an internal chamber of realistic looking lures.
Spearheading the approach toward smart technology designed specifically for saltwater use is Livingston Lures, a company already famous for their innovative and deadly effective line of sound emitting freshwater lures.
It's not enough that Livingston Lures imitations look and swim like the real deal, but they also emit natural baitfish sounds perfectly mimicking those found in the wild. Engineers at Livingston are also fine tuning multi-sound technology, with programmable sound sequences that anglers can set based on prevailing conditions. In either case, EBS is automatically activated when the lure is submerged and shuts off when the lure completely dries
For redfish, and nearly all other shallow water game fish, having the ability to sense sound in stained water is an incredibly important attribute. Not only can fish hear high-frequency sounds with a specialized inner ear, but scientific studies reveal that redfish hear minute noises in the aquatic environment using their lateral lines. Their swim bladder also acts as a resonating chamber that receives and produces sound. After all, redfish are highly coveted members of the drum family, which includes black drum, croaker and seatrout.
Sound technology is proven. Inshore anglers and experienced backcountry guides have been inserting tiny rattles into soft plastic baits for decades. Plus, ongoing research and development is continuing to prove that sound emitting lures outperform their quieter counter-parts in almost every venue, and with nearly every species.
Of course, sound emitting lure technology isn't beneficial if there aren't redfish to be caught. Inshore fishermen traversing Florida's shallow bays and lagoons must still rely on the fundamentals to make sure they are focusing their efforts on key areas likely holding the game fish they seek. This means proper preparation with well-maintained tackle that is light, sensitive and strong. It also means having a game plan in place and clear understanding of the dynamic ecosystem you intend to fish.
Fortunately, redfish are slaves to the tide and tolerant to cooler temperatures common during the winter. However, feeding patterns and daily movements change from typical fall and spring patterns so you'll definitely need to make a few adjustments.
Whether you probe oyster bars, mud flats, grass flats or sandbars, low tide typically offers the best opportunities. With low water levels, fish will be stuck in troughs and deeper pockets of water that haven't been sucked off the flats. Time it wrong and the flooding tide will provide fresh habitat and forage, giving your quarry a chance to spread out and elude capture. Most experts who've spent thousands of hours chasing redfish have a sixth sense and can predict redfish movements almost to the hour, knowing exactly where fish will likely stage during any period of the tide.
Once your target has been acquired, it's important to approach cautiously. It is very common for pods of feeding fish to blow out at the first sound or sight of potential danger. When casting, always present your offering ahead of the lead fish to avoid the dreaded blowout. If and when you spook a fish, because it happens to everyone, try to track the fish and give it a chance to regain composure before firing off another cast.
While redfish are opportunistic feeders and often take advantage of any available forage, they can be picky. Though several types of finfish and crustaceans are consistent targets, forage preference changes throughout the year depending on seasonal availability, migration and spawning behavior.
In any case, sound technology is here to stay and you can expect to hear more of it in the future, with growing interests from all sorts of anglers who believe that even the slightest sound makes a big difference. Will dropping $10 on a lure that talks to redfish change the way you fish forever? Probably not, but with recreational fishing pressure continuing to increase while coastal degradation and widespread water quality issues push our fragile ecosystems to the limit, any time someone claims they have an edge your ears should perk up.
It's amazing that we can even report such advances in technology, and it seems fish don't stand a chance when it comes to lure manufacturers eagerly researching the method and means by which predatory species feed. While some may choose to ignore the latest advancements in design from leading developers like Livingston Lures in an attempt to outsmart fish using talent and experience, those looking to increase their score should definitely gives these radical new lures a chance.
Book A Naples Fishing Charter
Chasin' Tales' Naples fishing charters gives you the opportunity to make a catch in the Gulf waters. Captain Geoff has been navigating the Gulf for years! To book a trip, call 239-216-0378 or click herefor more information.