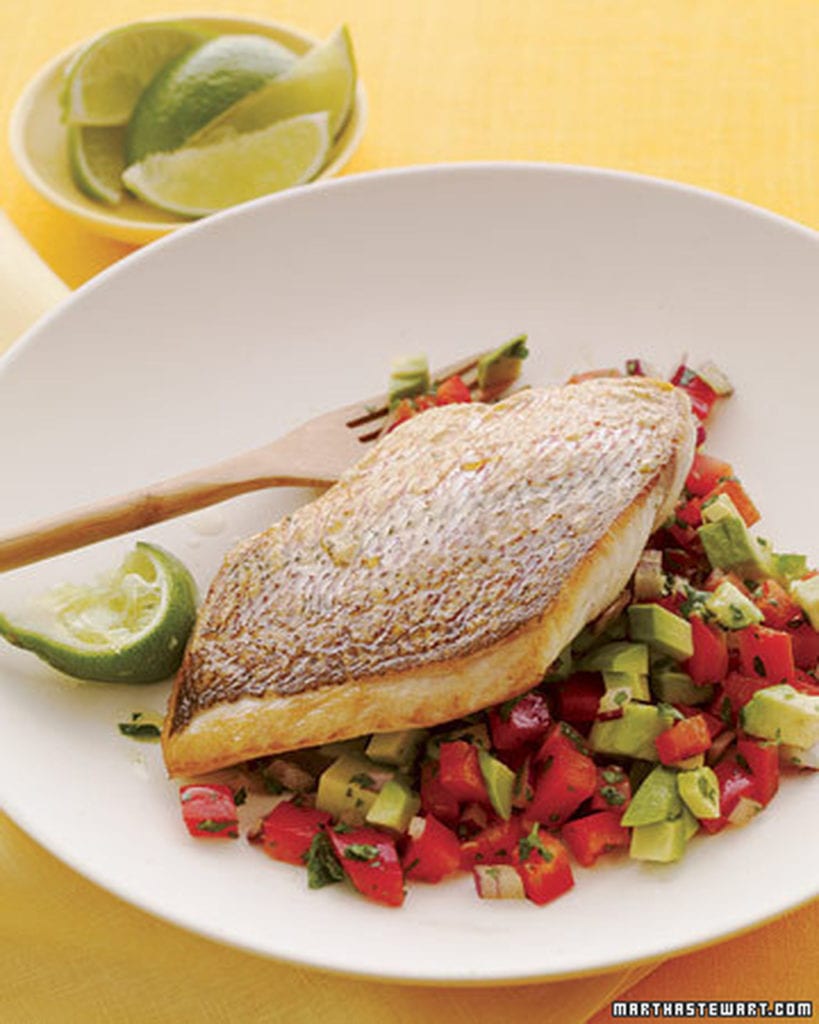 Snapper with Bell Pepper Salsa
Life can get busy, but that doesn't have to stop you from eating a healthy and delicious meal! With this simple snapper recipe, you can have dinner on the table in under 30 minutes. The fresh, flavorful salsa pairs nicely with this firm and mild fish. Enjoy!
Serves: 4
Ingredients
2 medium red bell peppers, ribs and seeds removed, chopped
1 small ripe avocado, halved, pitted, peeled, and diced
1 jalapeno pepper (ribs and seeds removed for less heat, if desired), minced
1/2 small red onion, finely chopped (1/4 cup)
2 tablespoons fresh lime juice (from 1 lime), plus lime wedges for serving
1/4 cup fresh parsley leaves, chopped
1 tablespoon plus 1 teaspoon olive oil
Coarse salt and ground pepper
4 skin-on red snapper fillets (about 5 ounces each)
Directions
1. To make the salsa, combine bell pepper, avocado, jalapeno, onion, lime juice, parsley, and 1 teaspoon oil in a medium bowl; season with salt and pepper and set aside.
2. In a large nonstick skillet, heat the remaining tablespoon oil over medium-high. Place snapper, skin side down, in skillet; season with salt and pepper. Cook until skin is golden, 3 to 4 minutes. Turn over and cook until opaque throughout, 1 to 2 minutes more.
3. Divide salsa evenly among 4 serving plates; top with snapper, skin side down. Garnish with lime wedges.
Recipe and photo courtesy of: Marthastewart.com
Catch a Snapper with Naples Fishing Charters
If you're looking for a great dinner idea, I definitely recommend trying this dish out. It's even easy to whip up on the busiest of nights. To catch a snapper yourself, join Captain Geoff of Chasin' Tales on a Naples fishing charter or Marco Fishing charter today. To book a trip, call 239-216-0378 or click
here
for more information.