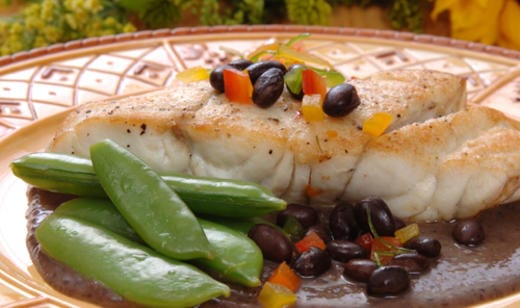 Grouper with Black Bean Coulis
Ingredientes You Will Need:
4 (6-ounce) grouper fillets
1/2 teaspoon cayenne pepper
1 cup cooked black beans
1 teaspoon garlic, chopped
1 serrano pepper, seeded
3 tablespoons onion, chopped
salt to taste
fresh ground black pepper to taste
1 tablespoon olive oil
1/2 cup whole cooked black beans, for garnish
Cooking Instructions:
Place fillets in shallow dish; sprinkle with cayenne pepper and set aside.
Combine black beans, garlic, Serrano pepper, onion, salt and pepper in a blender or food processor; blend until smooth.
Transfer sauce to a small saucepan and cook on low heat until warmed through.
Set aside and keep warm.
In a heavy nonstick sauté pan, heat olive oil over high heat.
Sauté fillets 3-5 minutes on each side until browned and center is opaque.
Transfer fillets to plates and top with black bean coulis.
Garnish with whole black beans and serve.
This recipe and photo is courtesy of Fresh From Florida
Catch Your Own Florida Grouper
Grouper is an amazing fishting and tasting fish to catch in Florida. They are available both offshore and inshore here in Naples. If you are looking to catch your own grouper and to try a recipe like this with your fresh catch, give Captain Geoff of Chasin' Tales a call at 239-216-0378 or email him here.