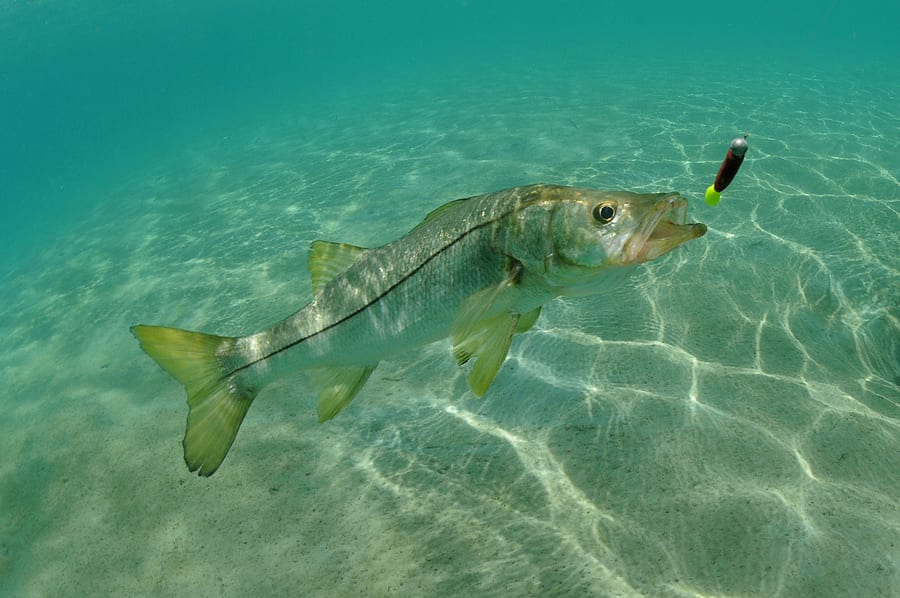 Looking for a simple way to prepare a snook? Try baking it. The almonds and lemon give this fish a great taste.  Cooking up a fresh snook is a flavor you'll never forget.
Baked Snook with Almonds and Lemon
Serves 18
Ingredients
4 pan-sized Snook
Juice of 5 lemons (keep the rinds intact)
Extra virgin olive oil (optional; salted butter 4 TB)
1/2 Tbs lemon pepper (black pepper optional)
4 garlic cloves finely crushed
½ cup dry white wine
1½ Tbs Worcestershire sauce
2 bay leaves
1 cup of sliced almonds
4 tomatoes thinly sliced (half green)
Salt to taste
Directions
Put on gas grill for 35 minutes turn regularly or oven at 350 F degrees for 40 minutes. Plate the fish on a bed of yellow rice decorate with green sticks of spring onions. Drizzle the sauce decoratively over the fish and rice. The light pink, green and yellow and darkish sauce looks really appetizing on an ice white plate.
Recipe Courtesy of: grouprecipes.com
In the mood for some snook? Come and catch your own! Join Captain Geoff on a Naples fishing charter today. To book a trip, call 239-216-0378 or click
here
for more information on a trip.