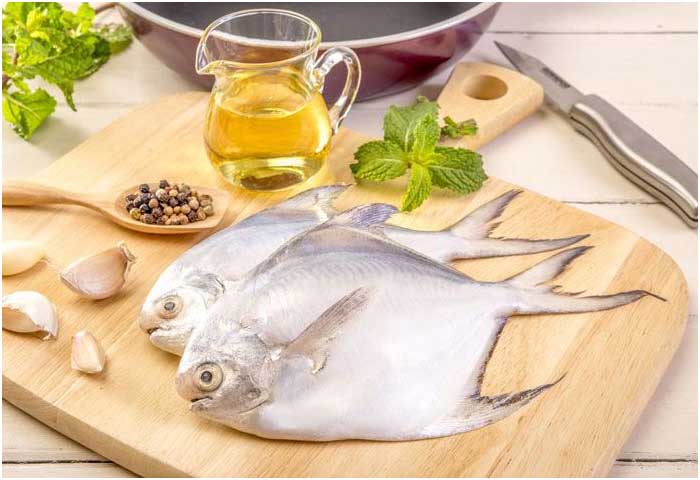 PAN ROASTED GULF POMPANO WITH FLORIDA VEGETABLES AND HERB OIL
Yield 2 to 4 Servings
Ingredients You will need:
1 Large whole fresh Florida pompano (flesh scored through the flesh to the bone)
4 tablespoons olive oil, divided
1 cup Florida yellow onion, chopped
3 cloves Florida garlic, finely chopped
3 medium Florida red tomatoes, chopped
1 small Florida eggplant, diced
2 medium Florida red bell peppers, diced
2 medium Florida zucchini, diced
2 tablespoons fresh Florida lemon juice
1/2 teaspoon salt
1/4 teaspoon freshly ground black pepper
1 tablespoon fresh Florida basil, chopped
1 tablespoon Florida parsley, chopped
Cooking Instructions:
Heat 3 tablespoons of oil in a large oven safe skillet over medium heat.
Season the scored pompano with kosher salt and fresh ground pepper.
Carefully add whole fish to preheated pan.
Cook fish for 2 to 3 minutes on each side.
Preheat oven to 375 degrees.
Put the fish and the oven safe skillet into the oven to continue cooking.
Cook fish for 6 to 8 minutes or until completely done.
Heat 3 tablespoons of oil in a large skillet over medium high heat.
Add onions, garlic and bell peppers.
Sauté onion mixture for several minutes.
Add zucchini and season lightly with salt and pepper.
Stir to combine and cook. Add the tomatoes and eggplant to the pan.
Cook vegetable mixture for another minute or two.
Add fresh herbs and lemon juice to the pan and stir to combine.
Adjust seasoning with salt and pepper.
Vegetables should be crisp-tender and seasoned well. Set vegetables aside to cool slightly.
FLORIDA HERB OIL
Yield 2 to 4 Servings
Ingredients You Will Need:
1/2 cup olive oil (good quality)
1/2 cup fresh Florida basil
1/2 cup fresh parsley
2 tablespoons roasted garlic (or 3 cloves raw garlic)
Cooking Instructions:
Add all ingredients to a blender or food processor.
Blend for 30 seconds.
Remove from device and adjust seasoning with salt and pepper.
Instruction Video:
This recipe was courtesy of How to do Florida and photo courtesy of Gina Ford Info
Catch Your Own Fresh Pompano
Pompano is a fun, seasonal, fish to catch in Naples. Anglers love keeping a few for their excellent flavor as well. If you are looking to catch your own pompano in the Naples area and try a recipe like this with your fresh catch, give Captain Geoff of Chasin' Tales a call at 239-216-0378 or email him here.