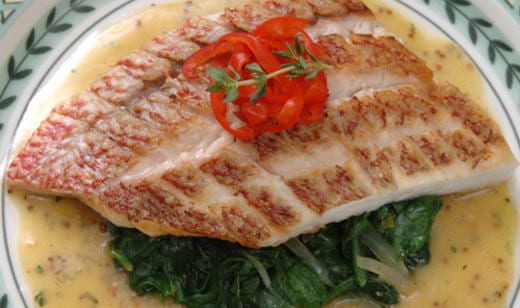 Coconut Snapper with Spinach Endive Sauté
Coconut is a great addition to fish recipes; it makes sauces and flavors richer and creamier. Not only is it delicious, but it's healthy, unlike many hydrogenated oils that could be added to foods instead. Below is a great recipe that pairs the strong flavors of coconut, cilantro, and ginger with the mild snapper and bitter endive. Enjoy!
Serves: 4
Ingredients
3 tablespoons olive oil, divided
4 (6-ounce) snapper filets
3/4 teaspoon salt
1/4 teaspoon black pepper
2 cloves garlic, crushed
1 teaspoon fresh ginger, peeled and grated
1/2 cup diced onion, divided
1 cup canned coconut milk
2 tablespoons fresh lime juice
1 teaspoon soy sauce
1/4 teaspoon hot sauce
1/2 cup fresh cilantro, chopped
1 head Belgian endive, thin sliced
1 (10-ounce) bag spinach, washed
Directions
Season fillets with salt and pepper.
In large sauté pan, heat 1 tablespoon olive oil over medium-high heat.
Cook fillets 3 to 4 minutes per side until cooked through.
Remove fish from skillet and keep warm.
For coconut sauce, return pan to heat and cook garlic, ginger and 1/4 cup onion until tender.
Add coconut milk, lime juice, soy sauce, hot sauce and bring to a boil.
Lower heat and add cilantro; simmer for 5 minutes.
In a separate, large skillet, heat the remaining oil over medium-high heat.
Sauté remaining 1/4 cup onion, endive and spinach until greens are just wilted.
Serve fillets with sauce over sautéed vegetables.
Recipe and photo courtesy of freshfromflorida.com
Join a Naples Fishing Charter
December is a good month for snapper. Want to catch one yourself? Join Captain Geoff of Chasin' Tales on a Naples fishing charter today. To book a trip, call 239-216-0378 or click
here
for more information.