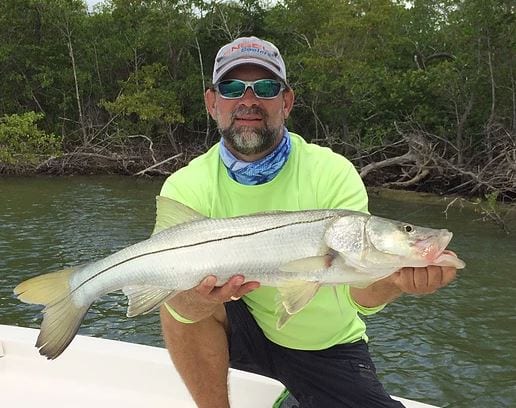 It's official! My Pro Guide page just went live on Beavertail's website this week. I can't tell everyone how excited I am to be a representative of one of the best skiff builders in the industry. Kudos to Liz and Will for manufacturing such a great fishing machine!
To view Captain Geoff's profile on the Beavertail site, click
here
.
"I am the owner/operator of Chasin' Tales Fishing Charters in Naples, Fl. We are a full service fishing charter and guide service that offers both near shore and backwater fishing charters in the Southwest Florida region from Estero Bay down into the Ten Thousand Islands.
From my earliest beginnings as an angler of 8 yrs. old, I was enamored with sight fishing. I spent many a day, throughout the course of my childhood, walking the shorelines of little lakes and rivers that I grew up on in West Michigan, looking for anything that I could make a cast to.
For the most part, those early formative years were spent doing more casting than catching, and although I didn't realize it at the time, all of those missed fish created a thirst in me to become a more proficient sight fishing angler. Every "missed" fish generated this inexplicable drive from deep within. The more fish missed, the stronger that drive became. It is that insatiable thirst that still pushes me to this day.
It wasn't until 1997, when I decided to begin a guiding career in Colorado that my fishing prowess began to evolve. I did everything I could to learn more about my quarry, from obsessing over the seasonal behavior patterns amongst different species of trout, to becoming well versed in entymology. If there was a book or article on the subject matter, I read it. If there was an old school guide that I could learn from, I did, and if there was an opportunity to be on the water, I was there. Immersing myself in everything that was fly-fishing, is what I lived for.
2005 was the year I decided to move from Colorado, to Naples, Fl. Although it was a tough decision to move away from all that I loved in Colorado, that move did open me up to new opportunities, which were yet to be discovered in the saltwater realm. As I had done before, I did again… only this time, I immersed myself in everything salt.
It took me many years of spending well over 200+ days per year on the water, studying tides, observing fish behavior, fishing with locals as well as on my own, and learning water before I felt like I might be proficient enough to begin guiding again. But it wasn't until my father's passing in 2008 that I realized life was too short, and it was time to make the leap back into the guiding game, so I purchased my first boat and opened up Chasin' Tales Fishing Charters. As I look back on those days, I realize it was a monumental task, and although it wasn't always easy, I had one thing going for me… a true passion for the sport.
Fast forward to 2017 – In the years since opening Chasin' Tales, I've spent many a day doing research on skiffs and dreaming of a time when I could ad a technical skiff to my business. A boat that would give me the ability to offer my clients the best possible fishing experience. During my search, I developed a list of criteria that the boat needed to meet… It had to perform well and be comfortable for 2 clients, have a soft ride in heavy chop, easy to pole, track well, be stealthy, stabile, have a good fit and finish, fish-ability, run skinny and have what I like to call dock appeal.
The search for a boat that met all of my criteria eventually led me to Liz and Will's doorstep. After a tour of the facility and test runs on a few models with Eric, I knew that Beavertail was the right choice for my business, and although their boats exceeded all of my expectations, it was the exceptional customer service that tipped the scales. I can truly say I am proud to be a member of The Beavertail Family."
Book a Naples Fishing Charter
Wanting to go out on a fishing charter? Naples fishing charters with Captain Geoff of Chasin' Tales gives novice and experiences anglers an opportunity to make a catch, while learning a lot about the local Southwest Florida area. To book a trip, call 239-216-0378 or click herefor more information.