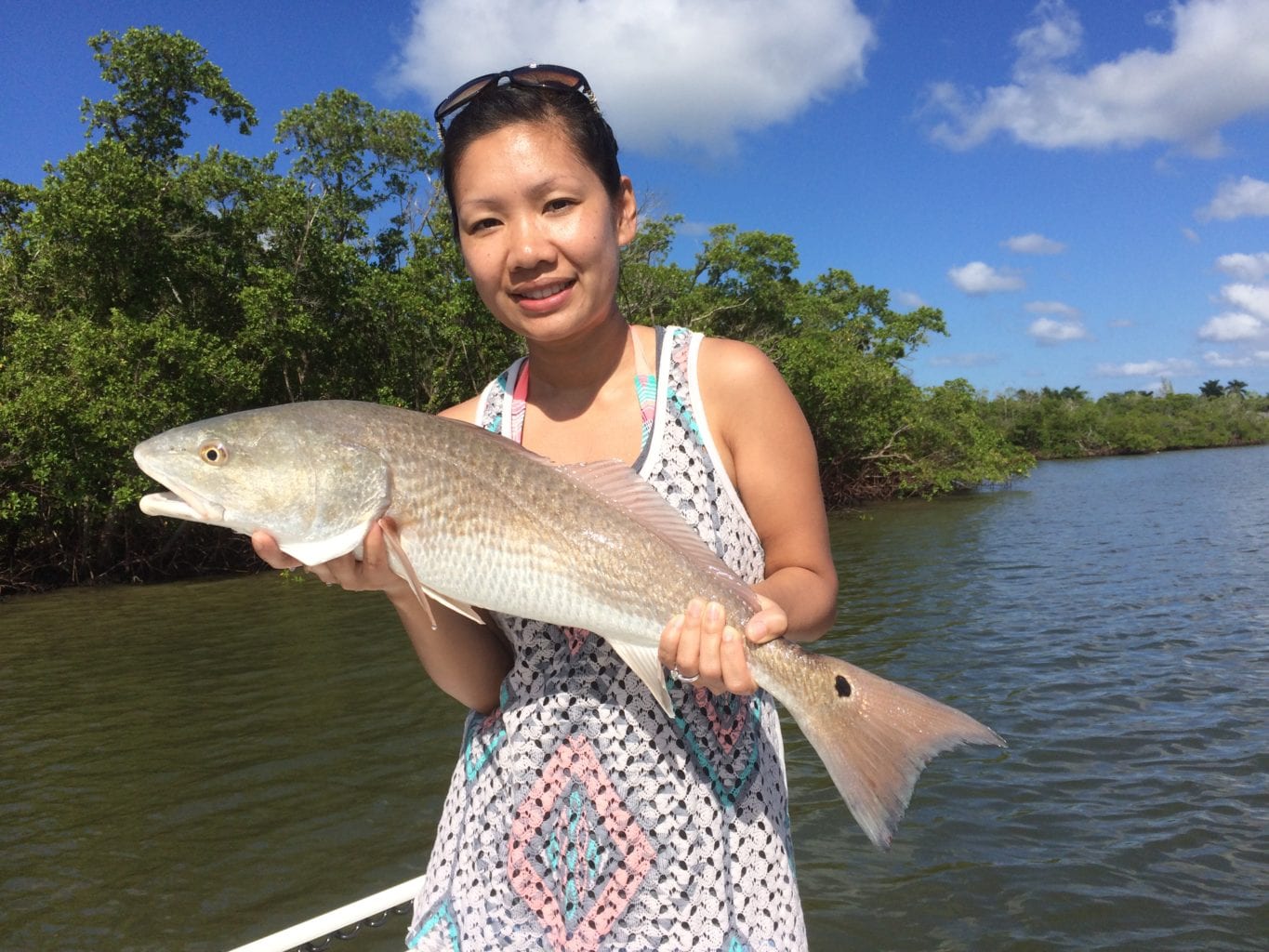 This article originally appeared on huffingtonpost.com. It was written by Abigail Wise.
Fishing is one of the most accessible outdoor sports. Nearly anyone, no matter age, income level or even fitness ability, can easily participate. And the sport is no longer the boys' club it was once thought of either. Of the 46 million Americans who fish today, over one third of them are women, according to a new report released by the Recreational Boating and Fishing Foundation and the Outdoor Foundation. There's also growing age and ethnic diversity within the sport.
Whether they grew up heading out onto the lake every Sunday with Grandpa or are one of the millions trying the sport for the first time every year, those who fish have a direct connection to health and well-being. Here's how fishing can help you lead a happier, healthier life.
Fishing can keep you physically fit. While fishing itself isn't necessarily going to get your heart rate up, many of the best fishing spots require a bit of paddling, biking or hiking to reach, all of which have proven cardiovascular benefits. "You can make your fishing excursion as physical as you want," Janna Superstein, president of fly fishing company Superfly International Inc., tells The Huffington Post. She stresses, however, that you don't need to be incredibly active to participate. "Even just getting out there, you'll still get the benefits of the outdoors and maybe that's the beginning of a new fit, healthy lifestyle," she says.
Of course, just spending time outside is good for your body and your brain. The outdoors gives us plenty of vitamin D (but don't forget the SPF!), makes us happier and helps us age gracefully.
Fly fishing — a specific type of fishing that incorporates artificial "flies" and a weighted line — may also help women with breast cancer recover. Groups like Casting for Recoverycombine breast cancer education with the sport as a form of support, therapy and exercise. Casting for Recovery's site says that the gentle motion of fly casting resembles exercises often prescribed after surgery or radiation to promote soft tissue stretching. The group is designed for women of all ages in all stages of treatment and recovery.
Fish are an excellent source of nutrition. While not all who fish keep what they catch, those who do may be in for some bonus benefits. Fish is an excellent source of omega-3 fatty acids, which may decrease blood pressure and lower the risk of stroke and heart failure. They could also reduce irregular heartbeats and improve brain function in children, according to the Mayo Clinic.
In addition to heart and brain health, research shows that eating fish can save your eyesight, decrease the risk of asthma, protect your skin from UV-rays and cut your chances of developing rheumatoid arthritis in half. Some research suggests that eating a fish-heavy diet could even help reduce the risk of breast cancer.
Eating fish could help you live longer.
All of that healthy eating pays off. Some credit the long lifespan of the Japanese to a fish- and veggie-heavy diet. Japanese women have the longest life expectancy in the world, at 87 years, according to the World Health Organization. And while men in Japan aren't quite as lucky, they do live to an average age of 80.
Fishing may reduce stress. Many fishermen (and women!) would agree that the gentle lapping of waves and tug on a fishing line is enough to push any stress far from the mind. "Just doing the activity relieves pressure and creates sense of excitement," Frank Peterson, president and CEO of the Recreational Boating and Fishing Foundation, tells The Huffington Post.
Of the nine percent of Americans currently considering taking up the sport, 38 percent of them are interested in it as a means of relieving stress, according to the Recreational Boating and Fishing Foundation and the Outdoor Foundation report. In a country where 80 percent of us report feeling even more stressed or equally stressed each year and only 37 percent of us actually think we're doing a good job at managing it, finding a way to relax is vital to our mental and physical health.
For many, a day of casting line is the answer because research shows that focusing on any one activity at hand can be a fast track to stress reduction. "When you're fishing, you have to be mindful," Superstein says. "You have to be present in order to observe what's happening with the fish and catch them."
The sport may decrease symptoms of PTSD.
The combination of mental relaxation and an easy form of exercise could also help those who suffer from post traumatic stress disorder. A 2009 study shows that fishing can lower PTSD symptoms and increase the mood of those who suffer from the disorder. After three days of fly fishing, participants reported a 32 percent reduction in guilt and a 43 percent decrease in feelings of hostility. The feeling of fear was also reduced by 30 percent, and sadness dropped by 36 percent. A portion of these positive effects remained even a full month after the fishing retreat.
Plus, it helps you unplug. Some of the mental benefits of fishing may be thanks to the opportunity it offers for us to unplug from our digital lives and enjoy nature. Sure, many love to snap shots of their big catches for various forms of social media or to print off and frame the old-fashioned way — "Before there were selfies, there were 'fishies'," says Peterson. And 50 percent of us use technology — whether for music, pictures or GPS — when participating in outdoor activities, according to the Recreational Boating and Fishing Foundation and the Outdoor Foundation. But overall, fishing offers a way to cut back on screen time. "It gives us a chance to unplug from daily lives and plug into something completely natural," Superstein says. "We can then recharge our batteries in a natural way."
Interested in taking up the sport yourself? So you're ready to feast on a fresh catch. Luckily, it's easier to start fishing than you may think. We talked to an expert to find the best tips for beginner fly fishers:
First, get rid of the misconceptions. Contrary to popular belief, fly fishing isn't only done for trout in mountain streams. According to Superstein, you can actually do it in saltwater, lakes, ponds and rivers.Invest in a starter kit. If you're a total newbie, look into buying a starter kit that includes a rod, reel, line and flies. Some even come with the necessary knots already tied. And don't feel like you have to spend a fortune, Superstein says. "Spending more money on gear doesn't necessarily mean you're going to catch more fish."Ask the experts. From weather to season to type of fish, there are so many variables to take into account that Superstein cautions against sticking to any hard and fast rules for catching more. Instead, check with people who know the area. Ask fellow boaters, workers at the bait shop or members of local fishing clubs for the best spots to fish and the best type of bait or fly to use.Explore the waters close to home. There's no need to venture into the depths of the woods or up a mountain to a small trout stream. Fishing is likely more accessible than you think. You can fish in the heart of downtown Chicago or on the Hudson River in New York City and still get the benefits of nature while living in an urban setting, Superstein says.Go whenever you can. While some only fish in the early morning and others swear by the first thaw of spring, Superstein warns against letting these restrictions hold you back. If you want to fish, go fish. "To quote my father," she says. "'The best time to fish is whenever you can,' because for the most part, it's not about the fish, it's about getting out on the water.
Book A Naples Fishing Charter
Chasin' Tales' Naples fishing charters gives you the opportunity to make a catch in the Gulf waters. Captain Geoff has been navigating the Gulf for years! To book a trip, call 239-216-0378 or click herefor more information.